Apples currently have little use in the game other than healing at very low levels. They heal 3 HP and can be found all over Aria Town and its immediate surroundings from monster drops and treasure chests. They can be bought for 4 GP at most inns, making them a cheaper alternative to Red Potions at early levels. A Red Potion costs 25 GP and heals 8 HP, while 6 apples (24 GP) heal 18 HP. However, this only makes sense if you are away from a town and outside of combat as you lose a turn when eating.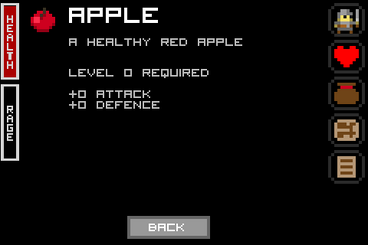 In-game description
Ad blocker interference detected!
Wikia is a free-to-use site that makes money from advertising. We have a modified experience for viewers using ad blockers

Wikia is not accessible if you've made further modifications. Remove the custom ad blocker rule(s) and the page will load as expected.