Treasure Maps can be bought from map sellers throughout Yore.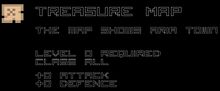 Using a map in the area described by its "info" will give the Cardinal direction of the "buried treasure".
Using a Spade to dig at the location indicated by the Treasure Map will grant a reward, and consume the map.
Treasure Map rewards are in the same location across all game instances.
All Treasure Map items are called "Treasure Map". As of this edit, individual Treasure Map Wikia pages are labeled by their "info" description (as opposed to the name of the actual "use" location).
A list of Treasure Maps by level can be found at Legends of Yore Game File Analyser website tmaps.xml.
Pages in category "Treasure Maps"
The following 11 pages are in this category, out of 11 total.
Ad blocker interference detected!
Wikia is a free-to-use site that makes money from advertising. We have a modified experience for viewers using ad blockers

Wikia is not accessible if you've made further modifications. Remove the custom ad blocker rule(s) and the page will load as expected.