Frost Bolt

Casts a bolt of ice towards the opponent

23

Buy / sell price

2200 / 111 Gold

Stackable?

Yes

Consumable?

No

Level requirement

7

Equip slot

Stats

+9 Attack

Charge used

20

4

Dropped by

Spectre, Liche, Medusette, Dark Magician, Ogre Mage, Ice Elemental, Frost Giant, Frostie, Frost Dragon, Frost Demon, Frost Skull, Orc Witch, Goblin Mage, Skeletal Mage, Dwarf Zombie, Ystrad, Wikka, Blue Dragoon, Aparasion, Savagine, Bogle Mage, Beastman Shaman, Deathbringer

Found in dungeon chests in

?
This is a decent spell compared to the Fireball magic. The easiest way to find it early in the game is to kill the Spectre in the graveyard.
Requires level 7 to cast.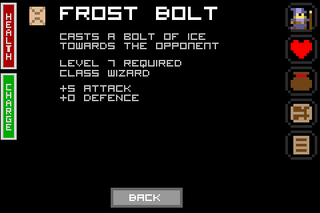 Ad blocker interference detected!
Wikia is a free-to-use site that makes money from advertising. We have a modified experience for viewers using ad blockers

Wikia is not accessible if you've made further modifications. Remove the custom ad blocker rule(s) and the page will load as expected.