Received from: Gasdan (Port Ynys)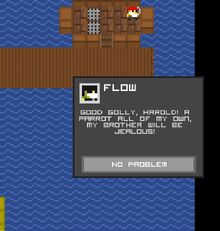 Level: 122
Objective: Take the parrot to Flow.
Completed at: Flow (Naleg Town)
Quest Item: Harold
Return to: Gasdan (Port Ynys)
Reward:
Note: Completion location shown as "Gates of Hell (and Dungeons)" which refers to Naleg Town.
Note: Flow is the pirate in the South boat, at the end of the pier in Naleg Town(see image above).
Ad blocker interference detected!
Wikia is a free-to-use site that makes money from advertising. We have a modified experience for viewers using ad blockers

Wikia is not accessible if you've made further modifications. Remove the custom ad blocker rule(s) and the page will load as expected.