Meat

A meaty drum stick

15

Buy / sell price

5 / 1 Gold

Stackable?

Yes

Consumable?

Yes

All

Level requirement

None

Equip slot

Not equippable

Use effect

+5 HP

Dropped by

Giant Snail, Chicken, Cow, Sheep, Bunny

Found in dungeon chests in

?

Meat is an item with little use in the game so far. Similar to
Apples
, you can use these to restore a small amount of
HP
for a relatively small cost. Meat is stackable, heals 5
HP
, and is sold at all Taverns. You can receive this as a drop as well as loot it from a treasure chest.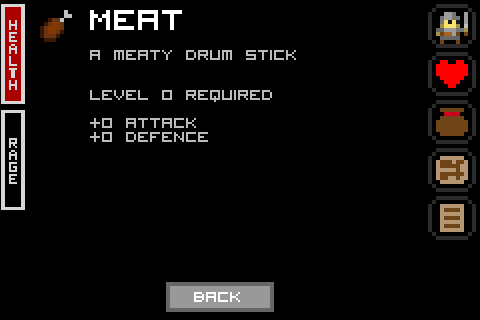 Ad blocker interference detected!
Wikia is a free-to-use site that makes money from advertising. We have a modified experience for viewers using ad blockers

Wikia is not accessible if you've made further modifications. Remove the custom ad blocker rule(s) and the page will load as expected.