Red Potion

A vial of red liquid (+8HP)

1

Buy / sell price

25 / 2 Gold

Stackable?

Yes

Consumable?

Yes

All

Level requirement

None

Equip slot

Not equippable

Use effect

+8 HP

Dropped by

Skeleton, Skeleton Archer, Kobold, Ghost, Cyclops, Bandit, Ettin, Bone Guard, Golem, Fawn, Fawn Warrior, Fire Beast, Golden Skeleton

Found in dungeon chests in
Red Potions aren't used much beacuse of their high cost for low healing, though they are important to low level players, as Blue Potions aren't as readily available. They are fairly common in the beginning dungeons, and they heal for more HP than an Apple does. They can also cause trouble for low levels because of their cost of 25 GP each, and they only sell for 2 GP. Red potions are the most useful when you are low in health and in the middle of combat, and you need to regain health quickly, but when you have time to flee, Apples are generally a better choice because of their low cost.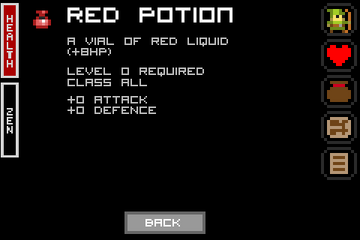 In-game description
Ad blocker interference detected!
Wikia is a free-to-use site that makes money from advertising. We have a modified experience for viewers using ad blockers

Wikia is not accessible if you've made further modifications. Remove the custom ad blocker rule(s) and the page will load as expected.