Staff of Demid

A magical staff

Equipment Slot

Weapon

Stackable/Consumable?

/No

Shops found in

N/A

Buy/Sell

N/A / 1701 GP

Class

Level required

13

Attack/Defence

5/1

Dropped By

Set Bonus

None

Bonuses

+2 Charge Per Turn
+2 Attack Against Undead
+1 Attack Against Crawler
+1 HP Per Attack
Staff is found by killing Chaos Knight on the 10th floor of S'Thel Oasis Dungeon.
with the staff having a 1/43 chance of dropping, it may be a grind for most players to obtain this item.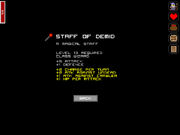 (I know it was for me...)
Ad blocker interference detected!
Wikia is a free-to-use site that makes money from advertising. We have a modified experience for viewers using ad blockers

Wikia is not accessible if you've made further modifications. Remove the custom ad blocker rule(s) and the page will load as expected.