Statue

A small stone statue

12

Buy / sell price

800 / 41 Gold

Stackable?

Yes

Consumable?

No

All

Level requirement

None

Equip slot

Not equippable

Dropped by

Found in dungeon chests in

None
When you finally get this item you are bound to wonder what strange and magnificent uses it might have. The actual usage of this item is none however.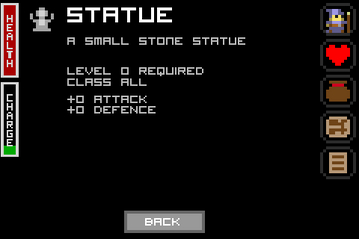 In-game description
Ad blocker interference detected!
Wikia is a free-to-use site that makes money from advertising. We have a modified experience for viewers using ad blockers

Wikia is not accessible if you've made further modifications. Remove the custom ad blocker rule(s) and the page will load as expected.