Tooth Dagger

A mighty tooth dagger

50

Buy / sell price

1500 / 76 Gold

Stackable?

No

Consumable?

No

Level requirement

10

Equip slot

Stats

Dropped by

None

Found in dungeon chests in

?
Level 10 - Archer
+3 Attack
+0 Defense
+2 Attack against Vermin
+1 Zen per Turn
Acquired from: Quest - Tooth Ache
Buy: Unknown
Sell: 76 Gold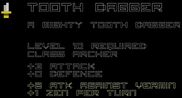 Ad blocker interference detected!
Wikia is a free-to-use site that makes money from advertising. We have a modified experience for viewers using ad blockers

Wikia is not accessible if you've made further modifications. Remove the custom ad blocker rule(s) and the page will load as expected.