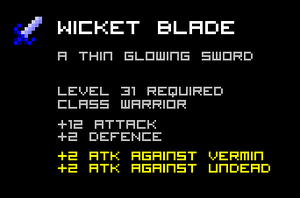 Description:
Edit
This sword is one of the best swords for 30-35 lvl. Good dmg and bonus def compared with its rarity make it very important thing you need to get.
It requires 31 lvl to equip and warrior class.
Desc:
-A thin glowing sword
Stats:
+12 atk
+2 def
Enchantments:
+2 atk against vermin
+2 atk against undead
Obtainable from:
-Fire Giant (rare)
-Bone Giant (Rare)
Ad blocker interference detected!
Wikia is a free-to-use site that makes money from advertising. We have a modified experience for viewers using ad blockers

Wikia is not accessible if you've made further modifications. Remove the custom ad blocker rule(s) and the page will load as expected.